NHTSA ID Number: 10143749
Manufacturer Communication Number: 16186 01
Summary
16186-01 – Emission Recall. On certain vehicles equipped with a 1.8L engine (RPO LWE), cracking of ceramic components internal to the catalytic converter may occur as a result of higher than anticipated exhaust temperatures. If this occurs, the catalytic converter low efficiency diagnostic will set and the malfunction indicator lamp will illuminate. Dealers are to reprogram the engine control module with calibrations that prevent higher than expected exhaust temperatures. (service procedure revised)
4 Affected Products
Vehicles
---
Bulletin No.: 16186-01
Date: June  2018
---
Reference Number:
A162049350
Release Date:
June 2018
Revision:
01
Revision Description: This bulletin has been revised to remove the Module Programming Not Required labor code from the Warranty Information section and to update the Service Procedure. Effective immediately, technicians MUST record the Warranty Claim Code on the Job Card. To avoid warranty transaction rejection, this information must be entered when submitting the transaction. If the Same Calibration/Software Warning is noted on the SPS Controller screen, continue with the programming event using SPS to ensure a Warranty Claim Code is displayed on screen. Please discard all copies of bulletin 16186.
Involved vehicles are identified on the Applicable Warranties section in GM Global Warranty Management system. This site should always be checked to confirm vehicle involvement prior to beginning any required inspections and/or repairs.
Parts Information
No parts are required for this procedure.
Warranty Information
Note: To avoid having to "H" route the customer reimbursement transaction for approval, it must be submitted prior to the repair transaction.
* To avoid warranty transaction rejections, the SPS Warranty Claim Code must be entered when submitting this transaction.
** Submit the dollar amount reimbursed to the customer in Net/Reimbursement. Submit $20.00 administrative allowance in Net/Admin Allowance.
*** Submit $10.00 administrative allowance in Net/Admin Allowance.
Warranty Claim Code Information Retrieval
If the SPS Warranty Claim Code was not recorded on the Job Card, the code can be retrieved in the SPS system as follows:
Open TIS on the computer used to program the vehicle
Select and start SPS
Select Settings
Select the Warranty Claim Code tab
The VIN, Warranty Claim Code and Date/Time will be listed on a roster of recent programming events. If the code is retrievable, dealers should resubmit the transaction making sure to include the code in the SPS Warranty Claim Code field.
Service Procedure
Note: Carefully read and follow the instructions below.
Ensure the programming tool is equipped with the latest software and is securely connected to the data link connector. If there is an interruption during programming, programming failure or control module damage may occur.
Stable battery voltage is critical during programming. Any fluctuation, spiking, over voltage or loss of voltage will interrupt programming. When required install the EL-49642 SPS Programming Support Tool to maintain system voltage. If not available, connect a fully charged 12 V jumper or booster pack disconnected from the AC voltage supply. DO NOT connect a battery charger.
Turn OFF or disable systems that may put a load on the vehicles battery such as; interior lights, exterior lights (including daytime running lights), HVAC, radio, etc.
Clear DTCs after programming is complete. Clearing powertrain DTCs will set the Inspection/Maintenance (I/M) system status indicators to NO.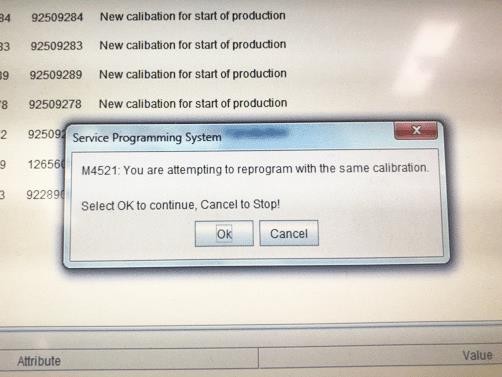 Note: If the Same Calibration/Software Warning is noted on the SPS controller screen, select "OK" and continue programming.
Reprogram the engine control module. Refer to Engine Control Module: Programming and Setup in SI.
Record SPS Warranty Claim Code on job card for warranty transaction submission.
CALIFORNIA VEHICLES ONLY: Complete a "Proof of Correction" certificate and provide to the vehicle owner upon recall completion.
Note: If the DTC code (P0420) is stored, it is not a false store due to a software issue. The technician will need to perform SBD to address the P0420.
Dealer Responsibility
All new, used, GM Certified Used, courtesy transportation vehicles, dealer shuttle vehicles, etc. in dealers' possession and subject to this program must be held and inspected/repaired per the service procedure of this bulletin before customers take possession of these vehicles. Involved vehicles must be held and not delivered to customers, dealer-traded, released to auction, used for demonstration, or any other purpose.
All GM Certified Used vehicles currently in the dealers' inventory within the Certified Pre-Owned Inventory System (CPOIS) will be de-certified and must be held and remedied per the service procedure in this bulletin. Upon submitting an accepted/paid warranty transaction in the Global Warranty Management (GWM) system, the vehicle can be re-certified for sale within the CPOIS system, or once again be used in the CTP program.
Dealers are to service all vehicles subject to this program at no charge to customers, regardless of mileage, age of vehicle, or ownership, from this time forward.
Customers who have recently purchased vehicles sold from your vehicle inventory, and for which there is no customer information indicated on the dealer listing, are to be contacted by the dealer. Arrangements are to be made to make the required correction according to the instructions contained in this bulletin. A copy of the customer letter is provided in this bulletin for your use in contacting customers. Recall follow-up cards should not be used for this purpose, since the customer may not as yet have received the notification letter.
In summary, whenever a vehicle subject to this program enters your vehicle inventory, or is in your dealership for service in the future, you must take the steps necessary to be sure the program correction has been made before selling or releasing the vehicle.
When a California emissions recall is completed by a GM dealer, the dealer must provide the vehicle owner a "Proof of Correction Certificate" which the owner may need to present to the California Department Of Motor Vehicles (DMV) when renewing their vehicle registration. Without this correction certificate, the owner may be unable to renew their vehicle registration.
Additional Certificates can be obtained, at no charge, from the 1Store application in GlobalConnnect. Request GM Item Number 1825 when ordering.
Dealer Reports
For dealers with involved vehicles, a listing with involved vehicles has been prepared and will be provided to U.S. dealers through the GM GlobalConnect Recall Reports The listing may contain customer names and addresses obtained from Motor Vehicle Registration Records. The use of such motor vehicle registration data for any purpose other than follow-up necessary to complete this recall is a violation of law in several states/provinces/countries. Accordingly, you are urged to limit the use of this report to the follow-up necessary to complete this recall.
Customer Notification
General Motors will notify customers of this recall on their vehicle (see copy of customer letter included with this bulletin).
In order to ensure full protection under the emission warranty, and the right to participate in future recalls, the customer notification letter recommends that customers have their vehicles serviced as soon as possible. It also advises that failure to do so could legally be determined to be lack of proper maintenance. The vehicle may fail a state or local emission inspection test if the recall work is not completed.
Customer Reimbursement
Customer requests for reimbursement of previously paid repairs to correct the condition described in this bulletin are to be submitted to the dealer prior to or by May 31, 2018. See General Motors Service Policies and Procedures Manual, Section 6.1.11 – Product Field Action Customer Reimbursement Procedure.
---
May 2017
This notice applies to your vehicle, VIN:___________________________
Dear General Motors Customer:
This notice is sent to inform you that General Motors is conducting a voluntary emission recall that includes your vehicle.
Reason For This Recall: On certain 2013-2014 model year Chevrolet Cruze and Sonic vehicles equipped with a 1.8L engine, cracking of ceramic components internal to the catalytic converter may occur as a result of higher than anticipated exhaust temperatures. If this occurs the catalytic converter low efficiency diagnostic will set and the malfunction indicator lamp will illuminate.
What Will Be Done: Your GM dealer will reprogram the engine control module with calibrations that prevent higher than expected exhaust temperatures. This service will be performed for you at no charge.
How Long Will The Repair Take? Because of service scheduling requirements, it is likely that your dealer will need your vehicle longer than the actual service correction time of approximately 25 minutes.
What You Should Do: Please contact your GM dealer as soon as possible to arrange a service date. Instructions for making this correction have been sent to your dealer. Please ask your dealer if you wish to know how much time will be needed to schedule, process, and repair your vehicle.
If you have any questions or need any assistance, please contact your dealer or the appropriate Customer Assistance Center at the number listed below.
| Division | Number | Text Telephones (TTY) |
| --- | --- | --- |
| Chevrolet | 1-800-630-2438 | 1-800-833-2438 |
| Puerto Rico – English | 1-800-496-9992 | |
| Puerto Rico – Español | 1-800-496-9993 | |
| Virgin Islands | 1-800-496-9994 | |
Reimbursement: Even though you may have already had repairs for this condition, you will still need to take your vehicle to your dealer for additional repairs. If you have paid for repairs for the condition described in this letter, please complete the enclosed reimbursement form and present it to your dealer with all required documents. Working with your dealer will expedite your request, however, if this is not convenient, you may mail the completed reimbursement form and all required documents to Reimbursement Department, PO Box 33170, Detroit, MI 48232-5170. The completed form and required documents must be presented to your dealer or received by the Reimbursement Department by May 31, 2018, unless state law specifies a longer reimbursement period.
Emission Law Information: In order to ensure your full protection under the emission warranty made applicable to your vehicle by state and federal law, and your right to participate in future recalls, it is recommended that you have your vehicle serviced as soon as possible. Failure to do so could legally be determined to be lack of proper maintenance of your vehicle. Also, your vehicle may fail a state or local emission inspection if this recall is not accomplished.
IMPORTANT MESSAGE FOR CALIFORNIA RESIDENTS
The California Air Resources Board (CARB) requires vehicle emission recalls be completed prior to California registration renewal. Uncorrected emission recalls will result in the inability to renew your California vehicle registration.
At the time of emission recall completion, your California dealer will issue a "Proof of Correction Certificate". Keep this certificate and, if required, present it to the Department of Motor Vehicles when renewing your California registration as proof of recall completion.
We are sorry to cause you this inconvenience; however, we have taken this action in the interest of your continued satisfaction with our products.
Jeffrey M. Boyer
Vice President
Global Vehicle Safety
Enclosure
16186
---
16186-01
Release Date: June 2018
Revision: 01
https://www.nhtsa.gov/recalls?nhtsaId=10143749
https://static.nhtsa.gov/odi/tsbs/2018/MC-10143749-9999.pdf
---
Approved J2534 Device with TIS2WEB can reprogram 1996 and later All GM Modules.
To obtain the latest electronic controller calibration information for your vehicle, go to https://tis2web.service.gm.com/tis2web and enter the vehicle's 17 character Vehicle Identification Number (VIN) and select 'Get CAL ID'.
You can then compare the latest part number with the actual number installed on the vehicle to determine if a reprogram is needed.
The Service Programming System (SPS) application is part of the TIS2Web system. To program an ECU, the SPS application must communicate with the vehicle control modules using the proper J2534 programming interface tool.
The following are the supported interface tools:
| | |
| --- | --- |
| Bosch EL-52100-AM GM Multiple Diagnostic Interface 2 (MDI 2) Kit | |
| CarDAQ-Plus 2 Diagnostic Code Reader and J2534 Programming Tool | |
| Drew Technologies (DRWCDPLUSKIT) CarDAQ-Plus J2534 Flash Reprogramming Kit | |
| Drew Tech CarDaq-M 2 SAE J2534-1/2 Reflash Reprogramming Tool OEM Diagnostics | |
| Drew Technologies (DRWMONGGM) Mongoose GM Vehicle Interface (VPW/CAN) J2534 |   |
| VSI J2534 ECU Reprogrammer & Diagnostic Adapter | |
| Autel (AULMF2534) MaxiFlash Pro | |
| Dearborn d-Bridge Adapter J2534 OBDII Engineering Tool | |
The Tech 2 supports model years 1996 and beyond. With the addition of the CAN Diagnostic Interface (CANdi) module, Tech 2 is fully backward compatible with current Tech 2 functionality and operates transparently when diagnosing non-CAN-equipped vehicles.
Servicing the next generation Global A vehicles will require the diagnostic software, GDS2, Global Diagnostic System 2 running on a local PC device while the MDI is connected to the vehicle.
The GM MDI is the Global Diagnostic tool for future vehicles starting with Global A vehicles. The GM MDI was introduced in the fall of 2007 for Pass-Thru programming and offers faster programming speed. It can be used to perform Pass-Thru programming on all vehicles built since 1996 and into the future. Click here to view a list of GDS supported vehicles.
Bestseller No. 1
Autel MaxisysCV MS908CV Diagnostic Tool with No-Delay Delivery for J2534 ECU Programming, Heavy Trucks Diagnostics, Coding, Service Functions for Deep Vehicle Repair – for Workshops & Mechanics
🚒TOP-LEVEL HEAVY TRUCK DIAGNOSIS: Want to diagnose different kinds of vehicles? Autel MaxiSysCV that comes with J2534 ECU Programming Device is the diagnostic tool you need! You can use comprehensive diagnostic functions including ECU Information, Trouble Codes, Live Data, Active Test, and Special services for Experts (Allison, Bendix, Caterpillar, Volvo, Freightliner, etc.), Buses (Volvo, Hino, Isuzu, Mercedes Benz, Volkswagen, etc.) and even Trucks (Volvo, Dodge, Ford, Foton, Mack, etc.).
🚛CODING FOR OPTIMIZING PERFORMANCE: With Autel MS908CV, Optimizing vehicle performance is not that hard! The 100% safe ECU Coding allows you to change options within the vehicle's ECU to modify features for the tested vehicle. Note: Coding only changes preprogrammed options already existent in the software. ✔️High Beams and Fog Lights Together ✔️Double Blink Hazards ✔️Digital Accurate MPH Gauge ✔️Enhanced Bluetooth Enable, etc.
🚜SERVICE FUNCTIONS FOR FAST MAINTENANCE: You can complete a series of scheduled services and maintenance with only one MaxiSysCV. Free from the trouble of changing basic OBD2 scanners frequently to get related services. The most commonly performed service functions include Oil Reset, EPB, Brake Bleeding, DPF & SCR, IMMO & Keys, Injector, Throttle and more.
🚌USER-FRIENDLY FEATURES FOR HIGH EFFICIENCY: No fuss with complex operations! The user-friendly MaxiSysCV diagnostic tool reduces your fatigue. AutoVIN Scan allows you to check all the ECUs of the tested car in less than 1 seconds. Remote Desk Operation offers workshops a channel of controlling customers' MaxiSys tablets for immediate technical support. Data/Shop Manager reduces the time spent on managing diagnostic files, workshop information, and more.
🚗POINTS FOR AFTER SERVICES: 1.About Quality: Autel MaxiSysCV is designed with advanced configuration (Android4.0 OS, Samsung Exynos 4-Core Processor, etc.) for smooth and reliable using. 2.About Warranty & Update: Within one year, Products with defectives in material or workmanship will be repaired or replaced free of charge and It's free to update the software at regular intervals to increase MS908CV's capabilities. 3. About Service: Autel is ready to answer any questions 7* 24 hours.
Bestseller No. 2
Autel MaxiIM IM608, Top Key Programming Diagnostic Tool for Programming, ECU Coding, 30+ Service Functions with IMMO XP400 Key Programmer, J2534 Reprogrammer, Free Car Battery Tester AB101 is Given
▶【ALL-ROUND IMMO FUNCTIONS】: Autel MaxiIM IM608 is a versatile Key Programming Diagnostic Tool with the core of comprehensive IMMO Services. You can read PIN/CS (all key lost), perform Key Learning, Remote Control Learning, Remote Control Add, etc. via Smart Mode (for guided and automated key learning ) or Expert Mode (for advanced key learning).
▶【OE-LEVEL CAR KEY PROGRAMMING】: Integrated Car Key Programmer XP400 is to read transponder data (especially Benz infrared smart key), clone and generate exclusive keys, read/write on-board EEPROM data, etc. Included J2534 ECU Reprogrammer is for PC communication and ECU reprogramming capability. They work in combination with the IM608 to get the key programming work done in high efficiency and convenience. To check compatibility, contact MotorzoneUS@outlook.com or ask through Q/A.
▶【30+ SPECIAL SERVICE FUNCTIONS】 : 30+ commonly-used service functions (Oil Reset, EPB/BMS/SAS/DPF, etc.) helps quickly access to the vehicle systems for scheduled service and maintenance. Oil reset is to get the oil life reminder reset every time the oil is changed; EPB service is significant for deactivating and activating the brake control system, assisting with brake fluid control.
▶【VEHICLE ECU CODING】 : It's not a difficult task to modify preprogrammed software to improve vehicle performance anymore. While performing the works like remembering settings for Start/Stop systems, activating cornering headlights with fog lights, enabling multiple functions of the comfort module, Autel IM608, featuring ECU coding, can ensure the tested car is safe on the road.
▶【Free Gift of Car Battery Tester AB101】: Priced at 49$, car battery tester is recommended by Scotty Kilmer and Best Reviews. It directly detects the battery data and give suggestions on whether to replace the battery. This 12v car auto battery load tester is convenient for you to know the condition of cranking and charging system. Any questions, contact MotorzoneUS@outlook.com for sure.Please noted 1-year warranty and 30-day free return fees are available for you.
Bestseller No. 3
Autel (Maxisys Pro) MK908P Automotive Diagnostic Scan Tool Advanced Full System Scanner with ECU Coding and J2534 ECU Programming With TS401
The diagnostic tool comes with a J2534 ECU programming device that helps Benz and BMW users replace the existing software/firmware in the ECU, program new ECUs and fix software-controlled driving performance and emission issues. Welcom to contact MotorzoneUS@outlook.com or ask through Q&A for your specific need and to ensure the vehicle compatibility.
The software of MK908P has a wide range of compatibility and can be used to diagnose vehicles from over 80 brands in the US, Europe and Asia. Moreover, you can get more newly added car models with the fast-release software update service.
MK908P, as the advanced version of MS908P,MS908S,MS908E, MS908PS PRO, features the 10.1" 1920*1200 screen upgraded from 9.7" 1024*768, and the battery capacity is 15000mAh increased by 4000 mA. Also, it has a better anti-impact protection design.
The diagnostic tool supports bi-direction control to check the vehicle operating conditions. The bi-directional control of the ECM in Component Test enables the MK908P to transmit control commands to operate the vehicle systems.
The MaxiFix provides you with an online troubleshooter database, and Remote Desk allows you to get help from others via TeamViewer software.
Bestseller No. 4
Autel MaxiIM IM608 Key Programming Diagnostic Scan Tool with XP400 Key Programmer and J2534 ECU Reprogrammer, Top IMMO Functions & Programming Automotive Scanner APB112 & G-Box 2 Add-On (for US Only)
【ADVANCED IN ONE KEY PROGRAMMING】Most advanced and the unique all in one key programming and diagnostic tool that combines advanced key programming, all systems diagnostics, and advanced services in one Android-based 10.1-inch touchscreen tablet.Read/write transponder data, ECU/MCU/EEPROM data (eg. 9S12 encryption chip), IC card, detect remote frequency.Please send VIN number to▲autelprofessional@hotmail.com▲ to check compatibility.
【IMPORTANT IMMO FUNCTIONS FOR YOUR CAR】IMMO related functions, including Key Learning, Remote Control Learning, Remote Control Add, etc. The working range for BT communication is about 210feet (70 m)You can perform key programming and vehicle diagnosis on various vehicles conveniently, by pairing the tablet separately to each of the MaxiFlashc.
【20+ SPECIAL SERVICE FUNCTIONS】▲Currently, IM608 just can be used in US. Please don't switch the IP or the device will be locked! Don't take IM608 to other countries▲It can retrieve ECU information, read & erase DTCs, and view live data. The Diagnostics application can access the electronic control unit(ECU) for various vehicle control systems, including engine, transmission, antilock brake system (ABS), airbag system (SRS).
【OE-LEVEL CAR KEY PROGRAMMING】IM608 is equipped with XP400 key programmer and MaxiFlash ECU programmer to provide complete coverage of IMMO and programming functions. Note: Autel IM608 + APB112 + G-BOX2 can not work with XP200 Key Programmer. NOTE: APB112 is NOT universally compatible. Please send VIN number to autelprofessional@hotmail.com to check compatibility.
【12-month Quality assurance is available】We'll offer you a solution if you have any doubts about this product. Enjoy this absolutely RISK-FREE purchase. If you have any issue after you get the item, please CONTACT>>▲autelprofessional@hotmail.com ▲, you can get a quick response.
Bestseller No. 5
VXDIAG VCX Nano Diagnose and Programming Tool Compatible for Toyota and Lexus SAE J2534 WiFi Version
VCX is designed on the basis of the latest automotive international standards so that it can support many professional automotive diagnostic applications
WIFI Version VXDIAG VCX Nano compatible for TOYOTA and Lexus, support both USB connection and WIFI connection, support latest version software, Compatible with varieties protocols. can be very easy to connect various automotive bus to a PC
OS support both WINDOWS XP and Windows 7, Software support multi-languages: Chinese, English, French, Italian, Spanish, German, ec
Small size, easy to carry and convenient for us
One year warranty
Bestseller No. 6
Autel MaxiIM IM608 Key Programming Diagnostic Tool with XP400 Key Programmer and J2534 ECU Reprogrammer, Advanced Key Programming, OE-Level All Systems Diagnostics, and Oil Reset/EPB/SAS/DPF/BMS/TPMS
【Advanced IMMO & Key Programming】Autel IM608 is a perfect choice for auto technicians and locksmiths to encrypt keys, add keys, change keys, and generate keys. The Smart Mode and Expert Mode in IMMO app offer you guided and advanced Key Learning to choose. The Autel scanner can also read/write various key chips helping perform complete key programming quickly. 🔥Note: IM608 just can be used in the US. Don't take it to other countries or change the IP.
【ECU Coding & Active Test】Active Test helps you accurately figure out whether a specific subsystem or component in vehicles goes well. This function may appear as Actuators, Actuator Test, or Function Tests, and the tests options vary by vehicle manufacturer and model. After repairs or replacements of vehicle parts, Autel IM608 can reprogram adaptive data for certain components of the test vehicle through ECU Coding.
【Reliable Key & ECU Programming Tools】 Equipped with XP400 key programmer and MaxiFlash ECU reprogrammer, this Autel scanner performs IMMO Add Key, All Key Lost and Key Learning for 3rd generation Benz. Besides convenient PC communication and ECU reprogramming capabilities from the MaxiFlash tool, it can read transponder data (including Mercedes Benz infrared smart key), clone/generate exclusive keys, etc. by working with the XP400 key programmer.
【Language & Wide Compatibility】When you get this Autel scanner, it only supports English. 🔥You can get the required language by providing the serial number for customer service via ▶support-amazon@autelonline.com◀. Compatible with more than 80 makes and models from the US, Asian and European, the Autel IM608 can perform OE-Level all-system diagnostics for Chrysler, Dodge, Ford, GM, Jeep, etc.
【12-Month Free Update & Warranty】Autel IM608 comes with a 1-year free update online to improve the apps' capabilities by adding critical patches, new models, etc. When the 1-year update expires, it will cost $1250 per year to continue updating. A 12-month warranty gives you a guarantee for any possible quality problems. For any question, feel free to ask the customer service.
Bestseller No. 7
Autel Maxisys Elite Diagnostic Tool (Upgraded Version of MS908P Pro) with WiFi BT Full OBD2 Automotive Scanner with J2534 ECU Programming and 2 Years Update
【ADVANCED ECU PROGRAMMING】 This pro-level scan tool features Autel's Powerful Complete Diagnostic System with easy-to-go workflow of ECU Coding: / for customer individual customization of the car (to improve vehicle performance, or stimulate high-end car functions); / for the configuration alteration (when a component is replaced); / and for multiple car systems' recognition of each other etc. , with optimal efficiency.
【36+ SERVICE FUNCTIONS】This OE-Level diagnostic scanner offers more than 36 service functions as Oil Reset, Injector Coding, EPB, TPMS, BMS, Brake Bleed, DPF, Immo Keys, SAS, Suspension, Throttle etc. It also gains full access of all available vehicle modules to Retrieve ECU information, Read & Erase DTCs, and View Live Data of each parameter item, with Bi-Directional Control (Active Test) to check the operating conditions of various car systems and components.
【J2534 PROGRAMMING】Autel MaxiSys Elite features J2534 ECU Programming for BMW & Benz, to access, update, replace and program the existing software/firmware in ECUs, without the need of a dealer-only tool, to troubleshoot and deal with complex vehicle problems like Driveability, Fuel Efficiency, Power Loss, Fault Codes, and Durability of mechanical parts etc. , with easy step-by-step instructions. This ultimate Autel scanner is made for perfection.
【DISCOVER OUR 24/7】2 years FREE software update + 1 year . This diagnostic tool is backed by Autel's professional tech team and service team, to offer the top quality product and service in the industry. Autel MaxiSys Elite comes a way in easing up and increasing efficiency in your professional diagnostics from all the features mentioned above. The returns are a . *The tool is only available to sell in the U. S. Region.
【STATE-OF-THE-ART HARDWARE】This Android 4. 4. 4 KitKat OS-based, tablet-style diagnostic scanner incorporates the world's fastest mobile processor NVIDIA's Tegra 4, with internal 2GB RAM (32GB SSD), for boosted performance (boot-up time < 20 sec). Also, Elite comes with a visually stunning sharp Retina display of 9. 7", with an 8. 0-megapixel rear camera with flashlight and auto focus. This scan tool is bound to work as fast and effective as possible.
Bestseller No. 8
Bestseller No. 9
Bestseller No. 10
Last update on 2020-05-30 / Affiliate links / Images from Amazon Product Advertising API
Last update on 2020-05-30 / Affiliate links / Images from Amazon Product Advertising API