NHTSA ID Number: 10143749
Manufacturer Communication Number: 16186 01
Summary
16186-01 – Emission Recall. On certain vehicles equipped with a 1.8L engine (RPO LWE), cracking of ceramic components internal to the catalytic converter may occur as a result of higher than anticipated exhaust temperatures. If this occurs, the catalytic converter low efficiency diagnostic will set and the malfunction indicator lamp will illuminate. Dealers are to reprogram the engine control module with calibrations that prevent higher than expected exhaust temperatures. (service procedure revised)
4 Affected Products
Vehicles
---

**************************************************************************************************************
*
*
*
*
*
*
*
**************************************************************************************************************
Bulletin No.: 16186-01
Date: June  2018
---
Involved vehicles are identified on the Applicable Warranties section in GM Global Warranty Management system. This site should always be checked to confirm vehicle involvement prior to beginning any required inspections and/or repairs.
Parts Information
No parts are required for this procedure.
Warranty Information
Note: To avoid having to "H" route the customer reimbursement transaction for approval, it must be submitted prior to the repair transaction.
* To avoid warranty transaction rejections, the SPS Warranty Claim Code must be entered when submitting this transaction.
** Submit the dollar amount reimbursed to the customer in Net/Reimbursement. Submit $20.00 administrative allowance in Net/Admin Allowance.
*** Submit $10.00 administrative allowance in Net/Admin Allowance.
Warranty Claim Code Information Retrieval
If the SPS Warranty Claim Code was not recorded on the Job Card, the code can be retrieved in the SPS system as follows:
Open TIS on the computer used to program the vehicle
Select and start SPS
Select Settings
Select the Warranty Claim Code tab
The VIN, Warranty Claim Code and Date/Time will be listed on a roster of recent programming events. If the code is retrievable, dealers should resubmit the transaction making sure to include the code in the SPS Warranty Claim Code field.
Service Procedure
Note: Carefully read and follow the instructions below.
Ensure the programming tool is equipped with the latest software and is securely connected to the data link connector. If there is an interruption during programming, programming failure or control module damage may occur.
Stable battery voltage is critical during programming. Any fluctuation, spiking, over voltage or loss of voltage will interrupt programming. When required install the EL-49642 SPS Programming Support Tool to maintain system voltage. If not available, connect a fully charged 12 V jumper or booster pack disconnected from the AC voltage supply. DO NOT connect a battery charger.
Turn OFF or disable systems that may put a load on the vehicles battery such as; interior lights, exterior lights (including daytime running lights), HVAC, radio, etc.
Clear DTCs after programming is complete. Clearing powertrain DTCs will set the Inspection/Maintenance (I/M) system status indicators to NO.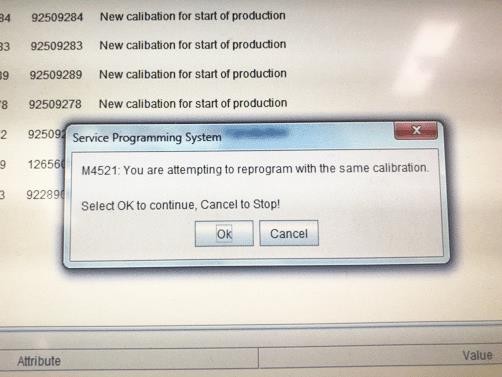 Note: If the Same Calibration/Software Warning is noted on the SPS controller screen, select "OK" and continue programming.
Reprogram the engine control module. Refer to Engine Control Module: Programming and Setup in SI.
Record SPS Warranty Claim Code on job card for warranty transaction submission.
CALIFORNIA VEHICLES ONLY: Complete a "Proof of Correction" certificate and provide to the vehicle owner upon recall completion.
Note: If the DTC code (P0420) is stored, it is not a false store due to a software issue. The technician will need to perform SBD to address the P0420.
Dealer Responsibility
All new, used, GM Certified Used, courtesy transportation vehicles, dealer shuttle vehicles, etc. in dealers' possession and subject to this program must be held and inspected/repaired per the service procedure of this bulletin before customers take possession of these vehicles. Involved vehicles must be held and not delivered to customers, dealer-traded, released to auction, used for demonstration, or any other purpose.
All GM Certified Used vehicles currently in the dealers' inventory within the Certified Pre-Owned Inventory System (CPOIS) will be de-certified and must be held and remedied per the service procedure in this bulletin. Upon submitting an accepted/paid warranty transaction in the Global Warranty Management (GWM) system, the vehicle can be re-certified for sale within the CPOIS system, or once again be used in the CTP program.
Dealers are to service all vehicles subject to this program at no charge to customers, regardless of mileage, age of vehicle, or ownership, from this time forward.
Customers who have recently purchased vehicles sold from your vehicle inventory, and for which there is no customer information indicated on the dealer listing, are to be contacted by the dealer. Arrangements are to be made to make the required correction according to the instructions contained in this bulletin. A copy of the customer letter is provided in this bulletin for your use in contacting customers. Recall follow-up cards should not be used for this purpose, since the customer may not as yet have received the notification letter.
In summary, whenever a vehicle subject to this program enters your vehicle inventory, or is in your dealership for service in the future, you must take the steps necessary to be sure the program correction has been made before selling or releasing the vehicle.
When a California emissions recall is completed by a GM dealer, the dealer must provide the vehicle owner a "Proof of Correction Certificate" which the owner may need to present to the California Department Of Motor Vehicles (DMV) when renewing their vehicle registration. Without this correction certificate, the owner may be unable to renew their vehicle registration.
Additional Certificates can be obtained, at no charge, from the 1Store application in GlobalConnnect. Request GM Item Number 1825 when ordering.
Dealer Reports
For dealers with involved vehicles, a listing with involved vehicles has been prepared and will be provided to U.S. dealers through the GM GlobalConnect Recall Reports The listing may contain customer names and addresses obtained from Motor Vehicle Registration Records. The use of such motor vehicle registration data for any purpose other than follow-up necessary to complete this recall is a violation of law in several states/provinces/countries. Accordingly, you are urged to limit the use of this report to the follow-up necessary to complete this recall.
Customer Notification
General Motors will notify customers of this recall on their vehicle (see copy of customer letter included with this bulletin).
In order to ensure full protection under the emission warranty, and the right to participate in future recalls, the customer notification letter recommends that customers have their vehicles serviced as soon as possible. It also advises that failure to do so could legally be determined to be lack of proper maintenance. The vehicle may fail a state or local emission inspection test if the recall work is not completed.
Customer Reimbursement
Customer requests for reimbursement of previously paid repairs to correct the condition described in this bulletin are to be submitted to the dealer prior to or by May 31, 2018. See General Motors Service Policies and Procedures Manual, Section 6.1.11 – Product Field Action Customer Reimbursement Procedure.
---
May 2017
This notice applies to your vehicle, VIN:___________________________
Dear General Motors Customer:
This notice is sent to inform you that General Motors is conducting a voluntary emission recall that includes your vehicle.
Reason For This Recall: On certain 2013-2014 model year Chevrolet Cruze and Sonic vehicles equipped with a 1.8L engine, cracking of ceramic components internal to the catalytic converter may occur as a result of higher than anticipated exhaust temperatures. If this occurs the catalytic converter low efficiency diagnostic will set and the malfunction indicator lamp will illuminate.
What Will Be Done: Your GM dealer will reprogram the engine control module with calibrations that prevent higher than expected exhaust temperatures. This service will be performed for you at no charge.
How Long Will The Repair Take? Because of service scheduling requirements, it is likely that your dealer will need your vehicle longer than the actual service correction time of approximately 25 minutes.
What You Should Do: Please contact your GM dealer as soon as possible to arrange a service date. Instructions for making this correction have been sent to your dealer. Please ask your dealer if you wish to know how much time will be needed to schedule, process, and repair your vehicle.
If you have any questions or need any assistance, please contact your dealer or the appropriate Customer Assistance Center at the number listed below.
Reimbursement: Even though you may have already had repairs for this condition, you will still need to take your vehicle to your dealer for additional repairs. If you have paid for repairs for the condition described in this letter, please complete the enclosed reimbursement form and present it to your dealer with all required documents. Working with your dealer will expedite your request, however, if this is not convenient, you may mail the completed reimbursement form and all required documents to Reimbursement Department, PO Box 33170, Detroit, MI 48232-5170. The completed form and required documents must be presented to your dealer or received by the Reimbursement Department by May 31, 2018, unless state law specifies a longer reimbursement period.
Emission Law Information: In order to ensure your full protection under the emission warranty made applicable to your vehicle by state and federal law, and your right to participate in future recalls, it is recommended that you have your vehicle serviced as soon as possible. Failure to do so could legally be determined to be lack of proper maintenance of your vehicle. Also, your vehicle may fail a state or local emission inspection if this recall is not accomplished.
IMPORTANT MESSAGE FOR CALIFORNIA RESIDENTS
The California Air Resources Board (CARB) requires vehicle emission recalls be completed prior to California registration renewal. Uncorrected emission recalls will result in the inability to renew your California vehicle registration.
At the time of emission recall completion, your California dealer will issue a "Proof of Correction Certificate". Keep this certificate and, if required, present it to the Department of Motor Vehicles when renewing your California registration as proof of recall completion.
We are sorry to cause you this inconvenience; however, we have taken this action in the interest of your continued satisfaction with our products.
Jeffrey M. Boyer
Vice President
Global Vehicle Safety
Enclosure
16186
---
16186-01
Release Date: June 2018
Revision: 01
https://www.nhtsa.gov/recalls?nhtsaId=10143749
https://static.nhtsa.gov/odi/tsbs/2018/MC-10143749-9999.pdf
---
Approved J2534 Device with TIS2WEB can reprogram 1996 and later All GM Modules.
To obtain the latest electronic controller calibration information for your vehicle, go to https://tis2web.service.gm.com/tis2web and enter the vehicle's 17 character Vehicle Identification Number (VIN) and select 'Get CAL ID'.
You can then compare the latest part number with the actual number installed on the vehicle to determine if a reprogram is needed.
The Service Programming System (SPS) application is part of the TIS2Web system. To program an ECU, the SPS application must communicate with the vehicle control modules using the proper J2534 programming interface tool.
The following are the supported interface tools:
The Tech 2 supports model years 1996 and beyond. With the addition of the CAN Diagnostic Interface (CANdi) module, Tech 2 is fully backward compatible with current Tech 2 functionality and operates transparently when diagnosing non-CAN-equipped vehicles.
Servicing the next generation Global A vehicles will require the diagnostic software, GDS2, Global Diagnostic System 2 running on a local PC device while the MDI is connected to the vehicle. The GM MDI is the Global Diagnostic tool for future vehicles starting with Global A vehicles.
The GM MDI was introduced in the fall of 2007 for Pass-Thru programming and offers faster programming speed. It can be used to perform Pass-Thru programming on all vehicles built since 1996 and into the future. Click here to view a list of GDS supported vehicles.
---
Bestseller No. 1
LAUNCH X431 PAD V All-in-One Automotive Scan Tool,J2534 ECU Programming & Coding,Topology Map,Guided Function,All System Intelligent Diagnostics Tool,Bi-Directional Control, 50+ Services
【High-End Diagnostic Tool for ECU Pro-gramming & Coding:14 Brands】LAUNCH X431 PAD V comes with J2534 protocols,which empowers you to program the blank ECUs,match the components,re-flash the second-hand ECUs,etc.you can perform OE-level diagnosis and pro-gramming for more accurate diagnosis and efficient car repair jobs to win more business!
【Online Functions +Flash Hidden Features】this diagnostic tool helps you pass-thru the gateway to access the data for coding.(for 2017 and later Chrysler,Dodge,Jeep,Alfa Romeo and Fiat).Guided Function (for V.A.G) ,step by step to guid you to diagnosis.Make full use of hidden features or disable car's annoying functions.Offline Coding.Modification for BMW 👍it is designed for any professional mechanics and independent repair shops.save time and effort on repairs.
【Topology Map & All System Diagnosis for Deep Inspection】X431 PAD V auto scan tool new-added topology module mapping,it is easy to view the communication structure between modules.you can directly access all system to perform functions,view live data in graph.
【50+ Maintence Functions & Full Bi-Directional Control】LAUNCH X431 PAD V car diagnostic tool supports 50+ reset service,like key IMMO,abs bleeding,GEARBOX,Oil Reset,Injector coding, Gear Reset, SAS Reset, TPMS Reset, DPF Reset, BMS Reset, ETS Reset, AFS Reset, EGR Adaptation,etc.it also can perform bi-directional control on all systems,like ABS,fuel pumps,windows,doors,etc.
【99% Coverage & Support J2534/DoIP/CAN FD/RP1210 Diagnostic Protocols】LAUNCH X431 PAD V supports API standard Communication Interface,with the VCMI Vehicle Communication Measurement Interface.support D-PDU/J2534/RP1210 Protocols👍LAUNCH X431 PAD V scan tool support PEV ( pure electric vehicle ).👍Heavy Duty Software (need extra buy)diagnose gasoline vehicles & 24V Diesel Trucks/buses/trailers/excavators/construction machinery/pick-up/etc.
Bestseller No. 2
Bestseller No. 3
Autel MaxiSys MS908S Pro Diagnostic Scan Tool with J2534 ECU Programming/ Online Coding/ Adaption, Proven Solution for US Market, Bi-Directional, 31+ Special Functions, Same as MaxiSys Elite, MK908P
👍【SAME AS MK908P & BETTER TECH SUPPORT】 MS908S Pro has EXACTLY the same diagnostics and service functions as MK908P and Autel MaxiSys Elite. Unlike online product MK908P, MS908S Pro is a mature product that has been tested and approved by workshops across US! NOTE: MS908S Pro is for North & South America only, and support English only.
👍【J-2534 ECU PROGRAMMING】Autel MaxiSys MS908S Pro is a professional automotive diagnostic scanner that utilizes powerful Cortex A7+A15 six-core processor that can perform OE level all systems diagnostics and various special functions. With J2534 ECU Programming Device included, it is capable of replacing the existing software & firmware and programming new ECUs(PCM, ECM) for specific BMW and Benz.
👍【25 SPECIAL FUNCTIONS FOR PROS】 Autel MS908S Pro is an advanced auto scan tools that can perform various special functions: Oil Reset, EPB reset, DPF Regen, ABS Bleed, SAS, Battery Registration, Injector Coding, Power Balance, Crankshaft Variation Learn and etc. NOTE: Special Functions are NOT universally compatible. Pls send VIN to 🚘auteldirect @ outlook . com🚘 to check compatibility before purchase.
👍【EXTENSIVE VEHICLE COVERAGE】 MS908S Pro diagnostic scanner computer covers more than 80 US, Asian and European vehicle makes. The scan tool can work on most OBDII-compliant vehicles to locate check engine issues, 80+ makes and models to scan all available systems. For special functions, coverage varies across vehicles, please send VIN number to 🚘auteldirect @ outlook . com🚘 to check compatibility first.
👍【HASSLE-FREE PURCHASE】 Autel MaxiSys MS908S Pro car scanner comes with 12 Months FREE software updates and services and is backed by Amazon 30 Day Return Policy. If there are any issues or concerns, please contact us directly via 🚘auteldirect @ outlook . com🚘 for prompt tech support and best after-sales services! Purchase now to solve drivability issues, emission issues and save both time & money.
Bestseller No. 4
VXDIAG VCX Nano Multiple GDS2 and TIS2WEB Diagnostic/Programming System for GM/Opel
Fully compatible with SAE-J2534-1 & SAE-J2534-2.How to resolve "License Expired" issue? Please download latest vx manager. After download, please install the new vx manager. Then connect device to laptop, laptop connecting network, open new vx manager, click "Firmware" to update, then click "Update license" to renew.
USB vehicle-to-PC connectivity; Firmware Updatable.CE and FCC compliance for hardware.
Important Note & Packing Update - How to resolve "License Expired" issue? Please download the latest vxmanager from vxdiag official website.Use new vxmanager t update firmware and driver and then update your device authorization.Packing Update-Now package do not come with CD, please refer to the user manual for obtain software link.You can check the user manual carefully before you start using the device.If you need online techinical support,we can service for you any time.
Note - You can turn off anti-virus program before installing the software, make sure your computer at least 4GB.Tech2win software only installed on 32bit computer and on physical system. GDS software need install on 64bit computer and use vmware machine. (Note:Please follow the video step by step installation, don't install automatically) .
Bestseller No. 5
Bestseller No. 6
Bestseller No. 7
Autel MaxiSys Ultra Scanner Top Diagnostic Scan Tool, Intelligent Diagnostics, J2534 ECU Programming, 36+ Service, 5-in-1 VCMI, Active Test, Upgrade of MS908S Pro Elite/MS909/MS919 (US ONLY)
🥇【AUTEL MAXISYS ULTRA---Designed to Maximize Technician Intelligence】As Autel's most ambitious diagnostic tablet to date, MaxiSys Ultra offers state-of-the-art hardware, intelligent diagnostics with unique Repair Assist, DTC analysis, TSBs, and Repair Tips to provide step-by-step repair guidance for technicians, 5-in-1 MaxiFlash VCMI supporting latest DoIP, D-PDU, and Mega CAN protocols, 27 Service options, bi-directional control, covering 95% post 2000 vehicles, 85% post 2019 vehicles.
🥇【AUTEL MAXISYS ULTRA---Improve Shop Repair Efficiency by 70%+】 With most advanced intelligent diagnostics, MaxisyS Ultra brings your repair to a whole new level! Ultra offers dynamic Topology Module Mapping, Repair Assist to provide guided procedures with code prioritization, DTC analysis & fault code solutions, Revelant Cases for DTC troubleshooting & repair tips video library, direct access to code-related manufacturer's Technical Service Bulletins.
🥇【AUTEL MAXISYS ULTRA---Advanced 5-In-1 VCMI for Stable Connection & Measurement Tests】 The new MaxiFlash VCMI functions as a VCI, 4-channel oscilloscope(preset guides and tests and waveform library), waveform generator, multimeter, and CAN BUS tester. With zoom in, playback and advanced triggers, oscilloscope is easy to use. With built-in battery, the VCMI can maintain the current and voltage required for stable, fast & secure vehicle communication.
🥇【AUTEL MAXISYS ULTRA---Wider Newer Vehicle Coverage and Fast Growing】 Autel MaxiSys Ultra ultimate automotive diagnostic tool supports the latest VCI protocols like D-PDU, DoIP/CAN FD, Mega CAN and can work on over 80+ US domestic, European and Asian vehicles. The Ultra has the best newer vehicle coverage Autel has yet to offer, covering 95% of post 2000 vehicles, and 85% of post 2019 vehicles and it's fast growing with the frequent released software updates.
🥇【AUTEL MAXISYS ULTRA---State-Of-The-Art Hardware + 1 Year Free Updates】 MaxiSys Ultra features a 12.9" touchscreen, Android 7.0 OS, Octa-core processor (2.3GHz Quad + 1.7GHz Quad), 256GB built-in memory, 5MP & 16MP cameras, 18000 mAh battery, dual wifi, powering the new split-screen multi-application navigation to provide diagnostic guidance and test component to confirm repairs. The Ultra comes with 1 Year Free software updates, 1 Year Warranty. For any concerns, please contact us directly.
Bestseller No. 8
VXDIAG VCX Nano Diagnose and Programming Tool Compatible for Toyota and Lexus SAE J2534 WiFi Version
VCX is designed on the basis of the latest automotive international standards so that it can support many professional automotive diagnostic applications
WIFI Version VXDIAG VCX Nano compatible for TOYOTA and Lexus, support both USB connection and WIFI connection, support latest version software, Compatible with varieties protocols. can be very easy to connect various automotive bus to a PC
OS support both WINDOWS XP and Windows 7, Software support multi-languages: Chinese, English, French, Italian, Spanish, German, ec
You can download the vxmanager online, if you have any license problem please send us the serial number to extend the license
One year warranty. Please contact us via order center if you have any problem with software installation
Bestseller No. 9
Autel Scanner Maxicom MK908P 2022, Upgrated of MS908S Pro & Same as Maxisys Elite, J2534 Programming Tool with No IP Restriction, ECU Coding, 36+ Service Functions, Bi-directional Scan tool
🎉【ECU Programming +Same Functions as Maxisys Elite】Coming with J2534 ECU reprogramming device, Autel MK908P is competent for ECU programming specific BENZ/ BMW. EXACTLY the same functions as Autel MaxiSys Elite, making itself the most cost-effective high-end diagnostic scanner in Autel product line. Also upgraded of MS908S Pro, Autel MK908P auto scanner enjoys superior configuration, serves 13 languages with no IP restrictions (MS908S Pro ONLY supports English).
🎉【Online Functions + Active Test】: There is online coding for VW, Audi, Porsche, Benz, BMW. Online configuration for Renault is unique among diagnostic industries. Besides, Autel MK908P features Bi-Directional Control (Active Test) to request information or command an actuator to perform specific tests, like cycling the a/c clutch on and off, perform an evaporative emissions leak test and more tests to solve the specific repairing work.
🎉【All-system Diagnose + 36 Service Functions】: Provided with full-systems diagnosis (ABS, SRS, Engine, Transmission, Brake System, Emission System, Fuel system, Light system, Wiper System, etc.). MaxiSys Pro MK908P also offers another 36+ service functions to help your repairing work faster, easier, and more professional. These service functions include immo keys/throttle/injecor coding/trans adaption/suspension/tyre retrofit/DPF/brake bleed/oil reset and more.
🎉【Common + Luxury Car Makes Coverage】MK908P is designed for repairing store, thus it enjoys extensive coverage for almost all car makes. Firstly, it has a wide range of compatibility for over 80 brands in the US, Europe and Asia. Besides, you have access to the newest model with fast-release software update. Moreover, There are basic diagnostic functions and most service / special functions compatible with Lamborghini, Ferrari, Aston Martin and Maserati etc.
🎉【Advanced Hardware + Reliable Service】As the advanced version of MS908P, MS908S, MS908E, MS908PS PRO, Autel MK908P runs much faster with android 4.4 OS, hexa-core processor, KitKat operating system, 2GB RAM & 64GB on-board memory, 10.1 inches LED screen ,20+ adapters and cables. 1-year free update, 12-month warranty, 30-day free return fees, 24-hour after-sales service are offered and promised.
Bestseller No. 10
Last update on 2022-05-22 / Affiliate links / Images from Amazon Product Advertising API
Last update on 2022-05-22 / Affiliate links / Images from Amazon Product Advertising API